Would the Vidal editions take us for apples? (I know, I could not resist…)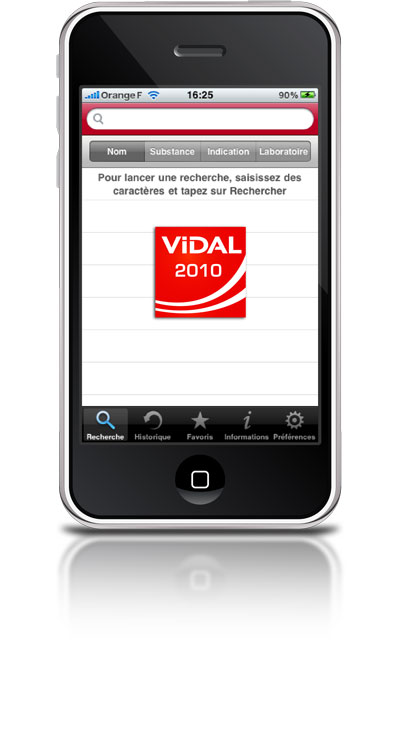 Vidal has been on the Appstore since yesterday! An exit without trumpets or drums just announced on an internal page of the Vidal site. In view of the application, we understand why!
Little reminder: The Vidal, a dictionary of medicines historically the most famous and the most widespread in France, was absent from the IPhone despite the very strong demand of health professionals. Reason mentioned is the absence of iPhone porting of the Mobipocket application allowing to read the precious dictionary. Is! The first few months. But, the time and the passing seasons, still no portage of the book in the form of a standalone application while a smaller box had already worn the bank Claude Bernard on our precious. Painful period from which I had come out victorious by leaving the online encyclopedia failing to throw myself in the arms of Claude (Bernard) with great satisfaction: here.
In short, you will say, if you are happy, why continue to tickle the unfortunate?
Simply because if they had decided to release a good application, I would not have said no to a new switch. After 24 hours of anguish, I am greatly reassured.
I went through the first reviews of users and especially the description of the application. It seems fast and effective in research to find the drugs either by their name, the main molecule (DCI), the indication or the laboratory. The database is that of the AFSSAPS as most of the software available in France. That's good, but it's the minimum. This is what comes out: Minimum service guaranteed and that's it.
Indeed, there is no prescription that would allow as on the BCB to look for interactions between two non-compatible drugs (a fill for the drug reference in France), no possibilities to create a patient profile that would seek Possible incompatibilities (although as I have indicated in my article, the BCB performs this function in a somewhat complex manner), better a biannual update where the BCB offers at least a monthly update (convenient to find the last Generic released that my patients present to me).
In short, this application reminds me simply of the porting of the online version in a native application (besides, the appearance and presentation are strictly identical under Safari and under Vidal. App), nothing transcendent or any advanced function, All this after two years of waiting.
Only really positive point, its launch price to 14.99 euros (to compare to the 72 euros of the BCB) then 30 euros per year. When you know that the online version is free for iPhone users, this is still expensive the local recording.
A missed appointment that only the notoriety of the brand Vidal will save, waiting for the next version…… in two years.